These are the episode notes and errata for Pratchat's special Oggswatch Feast episode for 2021, featuring guests Elly Squire, Liam Pieper, Nadia Bailey, Anna Ahveninen and the hosts of the podcasts Wyrd Sisters, The Truth Shall Make Ye Fret and The Compleat Discography. All of them cook dishes from the 1999 Discworld companion book, "Nanny Ogg's Cookbook", by Terry Pratchett, Stephen Briggs and Tina Hannan, and illustrated by Paul Kidby.
Iconographic Evidence
We'll add some more images of other recipes – or links to where you can find them – soon.
Bananana Soup Surprise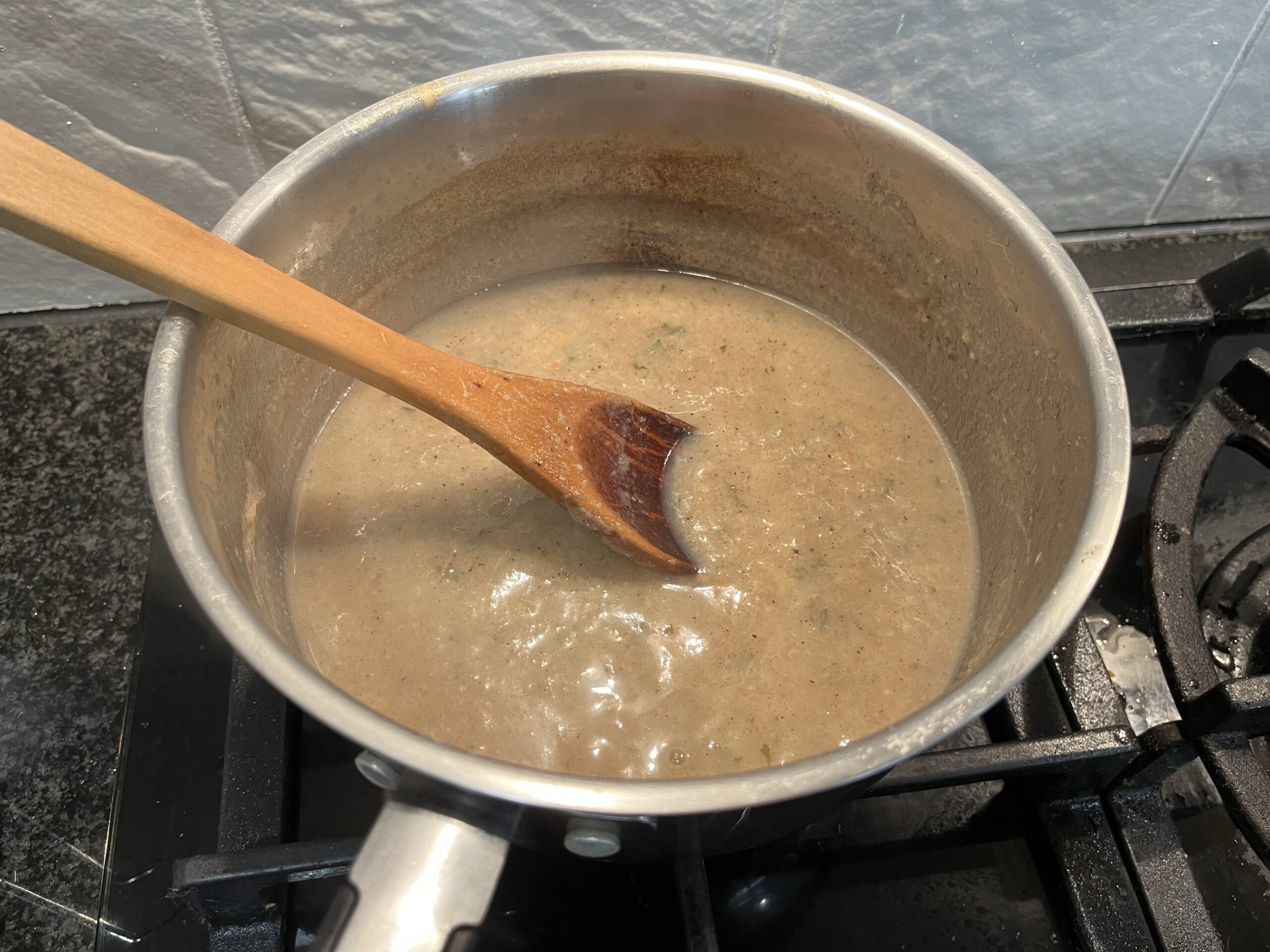 Celery Astonishment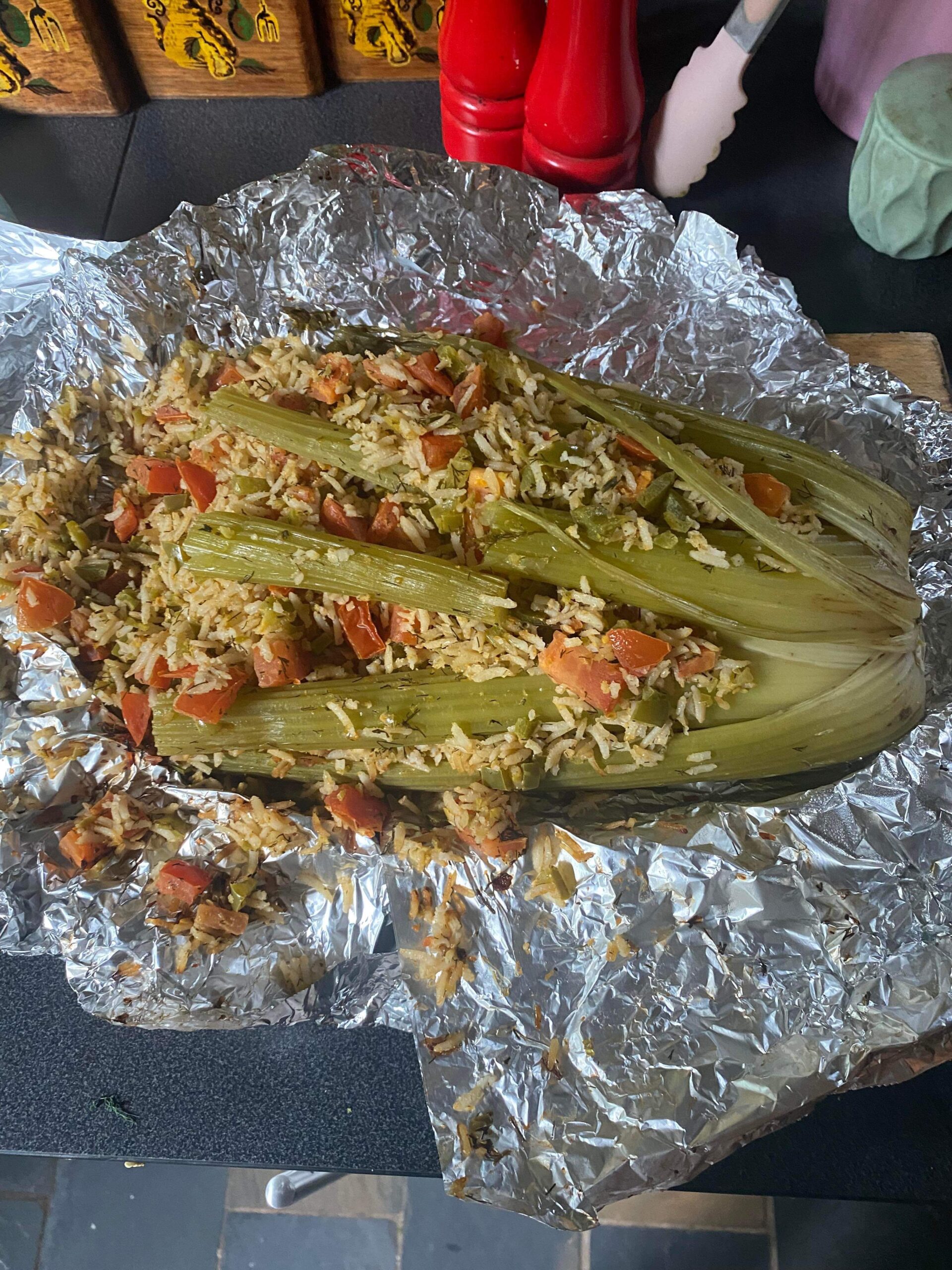 CMOT Dibbler's Sausage Inna Bun
As promised, the Wyrd Sisters shared some pictures of their sausages!
Figgins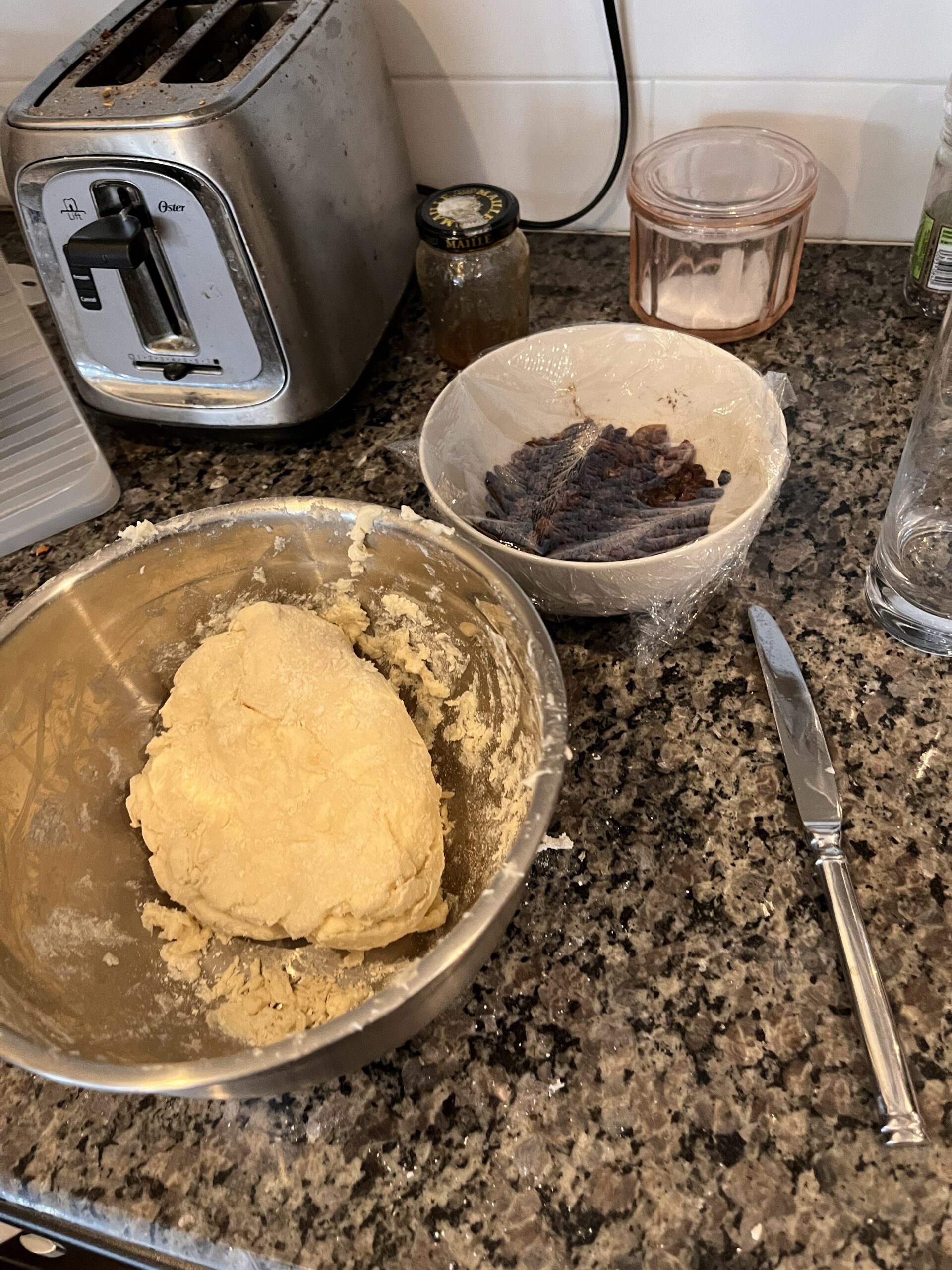 Dwarf Bread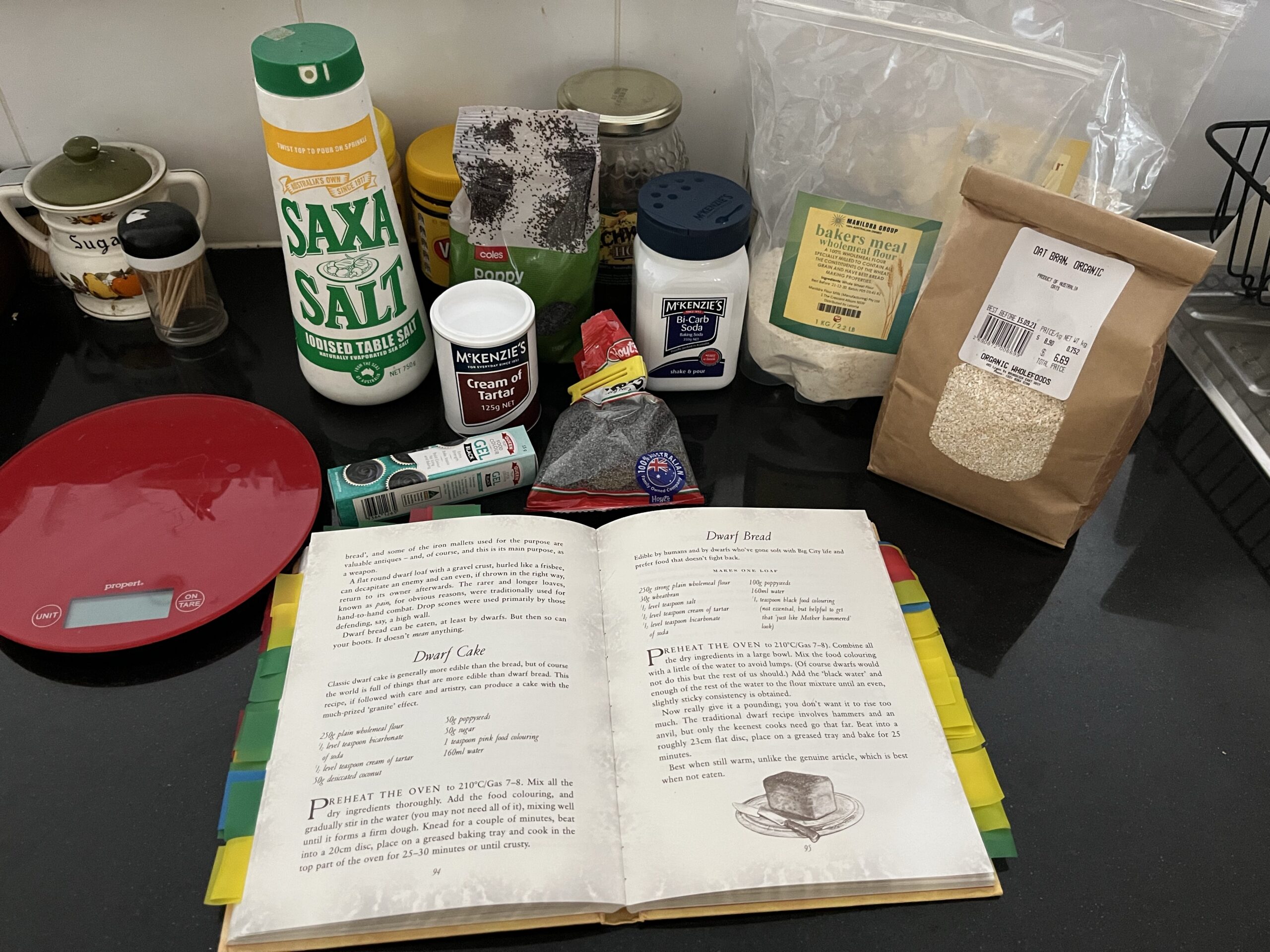 Notes and Errata
A huge shoutout to the ever-amazing David Ashton for the Hogswatch version of our theme tune!
We discussed Nanny Ogg's Cookbook in #Pratchat50, "Salt Rat Arsenic Heat" from December 2021.
We previously discussed Paul Kelly's 1996 Christmas hit "How to Make Gravy" back in #Pratchat29, "Great Rimward Land". Perhaps we should compile a Fourecksian cookbook and include a gravy recipe?
While Kelly's description of writing "How to Make Gravy" suggests it was written fairly quickly, Ben is exaggerating when he says the song was written in an afternoon.
The "Paul Kelly Cinematic Universe" does exist, but the protagonist of "How to Make Gravy" is not the same person from his hit single "Dumb Things". Instead Joe appears in Kelly's earlier songs "To Her Door" (1987) and "Love Never Runs on Time" (1994).
Whamageddon is a folk game in which players try to avoid hearing "Last Christmas", the 1984 Christmas single by Wham!, between December 1st and 24th. (No shade on the song – it's just still very popular in the UK, where the game originates, and so gets played a lot.) The game dates back to an online forum in 2010, though it didn't get the name until 2016, when the Facebook page took it to new heights of fame. You can find the rules at whamageddon.com.
Names suggested for Ben's proposed Australian variant of Whamageddon have included "Gravygeddon", "Armagravy", "Paullkellypse" and "Catastophgravy".
Peppers or bell peppers are indeed what we Australians and New Zealanders call a capsicum. This differentiates it from the other kinds of peppers, which all have specific names. Capsicum is the genus of plants in the pepper family, but that includes most varieties of chilli as well.
ASMR is an acronym for Autonomous Sensory Meridian Response, a well-documented sensation of physical tingling and low-level euphoria felt by some in response to certain sounds. ASMR is a form of paresthesia, a term for sensations felt on the skin which do not have (or at least don't match) a physical cause; "pins and needles" is the most common form. The tingling of ASMR is most often experienced in the scalp and the back of the neck, and can be triggered by a variety of things, though whispering is most common. The phenomenon is fairly widespread, and ASMR videos and audio recordings are all over the Internet. (If you go searching, be aware that while ASMR is not inherently sexual, there's a fairly large subset of videos that mix in erotica.)
Schitt's Creek is a Canadian sitcom created by father-and-son duo Dan and Eugene Levy, starring the pair of them, Catherine O'Hara and Annie Murphy as a rich family who lose their fortune and are forced to live in a motel in a town they once bought as a joke. It ran for six seasons from 2015 to 2020 on CBC, and is available internationally on Netflix. You can find the "fold in the cheese" scene on YouTube; it's from the second episode of the second season, "Family Dinner".
"How the sausage gets made" is a common idiom, meaning to discover the perhaps unpleasant process behind something on enjoys, which one might prefer not to know. It's also a line in the song "The Room Where It Happens" from the second act of Lin Manuel Miranda's hit broadway musical Hamilton. It describes the Compromise of 1790, in which at a private meeting Alexander Hamilton, Thomas Jefferson and James Madison agree to build a new capital city for the United States in the South (rather than making New York the capital), perhaps in return for using Hamilton's proposed financial system. The song is from the perspective of Hamilton's friend/rival Aaron Burr, who laments that no-one really knows what was agreed in "the room where it happens":
No one really knows how the game is played
The art of the trade
How the sausage gets made
We just assume that it happens
But no one else is in the room where it happens
American sausages are not all like Frankfurts! They have more English-like ones as well. As the Wyrd Sisters themselves explain: "They're a fairly common breakfast food, usually as part of a larger meal. The main difference is that they're smaller and a little drier than what you get in the UK and Australia – if your sausages are grapes, ours are raisins." Smaller breakfast sausages are also very popular in the UK, but not often seen in Australia, at least on the East coast.
There have been several separate chains of supermarkets in the US named Market Basket. Manning is talking about the New England Market Basket, which has stores in the states of New Hampshire, Massachusetts, Maine, and Rhode Island. It was founded in 1917 by Greek immigrants as DeMoulas Market in Lowell, Massachusetts. Over the years there's been a few disputes between branches of the DeMoulas family, which still owns the chain, but these were mostly settled in court in 2014, when Arthur T. Demoulas was fired and, after mass worker protests, reinstated as the company President. The workforce is not unionised, but employees who work 1,000 hours or more a year are entitled to enter a profit sharing arrangement, and the chain does not use automated checkouts.
"Freedom units" is a satirical way to refer to the imperial measurements still widely used in everyday American life, though it's worth mentioning that this may be preferable to the weird mix of metric and imperial that you find in the UK and Canada… As Manning mentions, the "cup" is particularly confusing: a US cup is 240mL (that's millilitres, thousandths of a litre), or 8.45 imperial fluid ounces. A metric cup – as used in Australia – is 250mL, handily one quarter of a litre. But they're obviously very close, so you probably won't go too far wrong.
We discussed Maskerade in #Pratchat23, "The Music of the Nitt", back in September 2019. The Truth Shall Make Ye Fret discussed it over three episodes in September 2021: "Chekhov's Chandelier", "As the Actress Said to the Bishop" and "Climbing Into Box 8".
A sous-chef is the second most senior chef in a professional kitchen. The full title is sous-chef de cuisine, French for "under-chief of the kitchen".
Jo and Francine eat scones in their third Equal Rites episode, "Crumbs All Up In There", from January 2020.
Nigel Slater is an English food writer, best known as the head food writer for Marie Clare magazine from 1988 to 1993, and afterwards as the chief writer for The Observer Food monthly supplement. He's also written an autobiographical column for The Observer for more than a decade; a popular memoir, Toast: The Story of a Boy's Hunger, in 2003, which was later adapted for television and the stage; and numerous cookbooks, mostly concentrating on simple comfort food. His 2007 book Eating for England: The Delights & Eccentricities of the British at Table sounds like a great resource for those looking to learn more about the influences on Nanny Ogg's cookery.
Tannins are biological molecules which bind to proteins and other organic compounds and cause them to precipitate, ie solidify out of a solution. They are naturally found in most berries, some unripe fruits, nuts, wine, tea and cannabis, and as the name might suggest are also used in tanning, the process of making leather. Wine acquires tannin both from the varieties of grapes used to make it, and through the aging process, from the wood of the barrels, giving wine it's astringent taste. Tannins occur naturally in tea as well.
There's a bit of confusion about books adapted into films featuring magical cooking with chocolate in the title, so to clarify:

Ben is talking about Mexican author Lara Esquivel's 1989 magical realism novel Como agua para chocolate (Like Water For Chocolate), about a young woman forbidden to marry the love of her life, who magically (and unwittingly) infuses the food she cooks with her emotions. It was filmed in Mexico in 1992, adapted by Esquivel, directed by Alfonso Arau, and starring Lumi Cavazos, Marco Leonardi and Regina Torné. Both novel and film include authentic Mexican recipes. A companion work, Tita's Diary, was published in 2016.

Everyone else is talking about Chocolat, a 1999 magical realism novel by English-French author Joanne Harris. It's about a witchy single mother, Vianne, who arrives in a small French village at Lent and opens a chocolaterie, leading her into conflict with the village's priest. It was followed by two sequels, The Lollipop Shoes (2007) and Peaches for Monsieur le Curé (2012). It was filmed in 2000, directed by Lasse Hallström with a cast featuring Juliette Binoche, Judi Dench, Alfred Molina, Johnny Depp, Lena Olin and Carrie-Anne Moss.

The media tie-in cookbooks mentioned by Joanne are:

The Elder Scrolls: The Official Cookbook (2019) by Chelsea Monroe-Cassel, for the videogame The Elder Scrolls V: Skyrim (and it's many predecessors).
A Feast of Ice and Fire: The Official Game of Thrones Companion Cookbook

(2012), also by Chelsea Monroe-Cassel and Sariann Lehrer, based on the

A Song of Ice and Fire

novels and

Game of Thrones television series, plus the companion book From the Sands of Dorne (2017). (There's also an unofficial one, published in 2012, The Unofficial Game of Thrones Cookbook: From Direwolf Ale to Auroch Stew, by Alan Kistler.)
World of Warcraft: The Official Cookbook (2017), also by Chelsea Monroe-Cassel, based on the MMORPG video game World of Warcraft. (Joanne wasn't kidding about this being a lucrative gig for some authors; Monroe-Cassel also has books out or on the way for Star Trek, Overwatch, Firefly, Star Wars and more.)

Heroes' Feast: The Official Dungeons & Dragons Cookbook (2020) by Kyle Newman, Jon Peterson and Michael Witwer, inspired by the tabletop roleplaying game Dungeons & Dragons.

While we're talking about these books, if you're looking for them, be wary of imitations! It seems since 2020 there's been a rash of cheap self-published unofficial ebooks of similar collections of recipes, especially where the expiry of a license means the official one is no longer available, or where it was never offered as an ebook in the first place. It's not clear if these are any good or even actually full of appropriate recipes, so try and save your money for the people who've put in the real work.
Gilmore Girls is an American dramedy series about young independent mother Lorelai Gilmour and her daughter Rory, who moved away from Lorelai's rich parents to live in the small town of Stars Hollow. The show ran for seven seasons on The WB and The CW between 2000 and 2007, with a revival mini-series, Gilmore Girls: A Year in the Life on Netflix in 2016. The show has inspired more than one cookbook, which is unsurprising given how Lorelai and Rory's lives – personal and professional – revolve around food…

Eat Like a Gilmore: The Unofficial Cookbook for Fans of Gilmore Girls (2016) and Eat Like a Gilmore: Seasons: The Unofficial Cookbook for Fans of the Gilmore Girls Revival (2021) are both by Kristi Carlson, and seem to have been the first and most popular of the bunch. They're also available in a box set of both books, which together contain two hundred recipes!
Gilmore Girls: The Official Cookbook

, by Elena Craig and Kristen Mulrooney, will be the first official one, and is coming in 2022.

The "Gas mark" is a scale for oven temperature used mostly in the UK and Ireland. It dates back to the 1930s, when many gas ovens were produced using a standard gas regulator, in most recorded cases a "Regulo" brand one, which had "marks" from 1 up to 9, as well as ½ and ¼, to indicate various levels of heat. Their instruction manuals, along with recipe books given away with some ovens, used the marks rather than a specific temperature, in the form "Gas: Regulo Mark 7". Eventually this became widespread enough that other brand regulators used the same numbers and by the 1950s the brand name was no longer used, with recipe books referring to "gas mark 8" and so on. Gas marks correspond to temperatures in degrees Fahrenheit: gas mark 1 is 275 °F, and each mark above that adds 25 °F (or subtracts it, in the case of ½ and ¼). Similar scales exist in other countries, notably France (labelled "Th", short for thermostats) and Germany ("Stufe", German for "step"); those scales are, of course, different to the gas mark and to each other. But modern cookbooks will generally include a temperature, as well as the mark, Th or Stufe.
It's not surprising Ben hasn't heard barberries, the fruit of the Berberis plant; turns out they grow all over the world except in Australia! The European species is Berberis vulgaris, which grows wild, but has fallen out of use in many countries. It's still popular in Iran; the Persian name for it is zereshk (زرشک), and in Europe at least most commercially available barberries are grown there. The berries are tart and tangy, and when dried are around the size of a currant, though red in colour.
Figjam is the 2005 single released by Brisbane hip-hop band Butterfingers, from their 2006 album The Deeper You Dig… It reached number 11 in the Triple J Hottest 100 that year, but only around 50 in the mainstream charts. In the song, the acronym is "Fuck I'm Good, Just Ask Me" rather than Great.
Figgins are indeed mentioned in Guards! Guards!; the master of the Elucidated Brethren of the Ebon Night uses the term repeatedly as a vague threat, mentioning that interlopers will "have their figgin put on a spike", and noting to himself that his followers have never asked what a figgin is. A footnote explains that in The Dictionary of Eye-Watering Words, a figgin is defined as "a small short-crust pastry containing raisins", and provides several other obscure culinary delights that could have made it into the Master's speeches. CMOT Dibbler is later seen selling figgins from his tray alongside his sausages, and it's a repeated joke that the Elucidated Brethren assume anything said about figgins describes a horrifying form of torture. Figgins also score a minor mention in Men At Arms, when Vimes imagines his fate if he were to stay in the watch to an old age with no family.
The Discworld cookery masterpost on Tumblr is a delight. Thank you, user toooldforthisbutstill, and to the major contributor, fantasyfeasts, who also makes stuff from other worlds.
We'll add a few more notes soon.
Thanks for reading our notes! If we missed anything, or you have questions, please let us know.