Pratchat is a podcast from Splendid Chaps Productions in which hosts Elizabeth Flux and Ben McKenzie are embarking on a six (ish) year mission to read every Terry Pratchett novel*, one a month, and discuss them with special guests.**
Pratchat is produced on the lands of the Wurundjeri and Woi Wurrung people of the Kulin Nation. We pay our respects to their elders, past and present, and recognise that sovereignty of this country was never ceded. Pratchett himself clearly had respect for the storytelling traditions of First Nations, and we encourage you to learn more about them and read their stories in their own words.
Episodes are released on the 8th (or 7Ath) of each month***, and are anywhere between 90 minutes and two and half hours long. We recap the plot of each book from start to finish, but we don't let that stop us from following the discussion wherever it may go. This approach means each episode contains major spoilers for the book it is discussing, and possibly others we've already discussed, though we'll try and keep spoilers for other books to a minimum. We also have footnotes! They're added in post-production to clarify or comment on the discussion without derailing it in the moment.
You can listen via this site – click on the post for the episode and find the built-in audio player right there on the page, usually just under the description of the book. You can also follow the podcast so you never miss an episode; see below for some guidance on how to do that.
Pratchat was nominated for the Ditmar Award for "Best Fan Publication in Any Medium" in 2019, 2021 and 2023.
* We really mean this – it's not just the Discworld ones! We'll also try and cover his most significant short stories, some of his non-fiction writing, collections of his short work for children, and who knows what else…
** There will also be the occasional bonus episodes, but the monthly schedule keeps us pretty busy. Hopefully we can find some shortcuts through L-Space…
*** According to local Melbourne time. As we release them in the morning, to some listeners (and indeed major podcast directories) it may appear episodes are being released on the 7th, but this is Incorrect.
The Pratchatters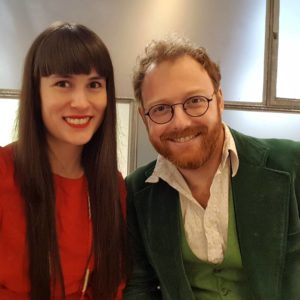 Elizabeth Flux (she/her), Pratchat Library Captain, is a freelance writer with a focus on film and pop culture, and previous editor of Voiceworks magazine. She has been published in Film Ink, Metro, Junkee, The Lifted Brow, Spook and Kill Your Darlings and can be found tweeting terrible puns @ElizabethFlux. Pratchat is Elizabeth's first podcast.
Ben McKenzie (he/him) is a comedian, writer and game designer. His work includes the VR game Table of Tales: The Crooked Crown and time travel radio comedy Night Terrace. He also teaches creative writing for 100 Story Building and comedy writing for the Australian College of the Arts. Ben tweets at @McKenzie_Ben, his favourite dinosaur is Stegosaurus, and his favourite element is helium. Ben has previously hosted and produced the podcasts Splendid Chaps, re:Discovery and On the Terrace.
The Supporting Cast
David Ashton created the music for the show, including all variations of the intro and outro themes, and the music for our footnotes and "previously on" montages. Find him via Sample and Hold Studios on Facebook.
The main show's cover art is by Adelaide-based cartoonist and illustrator George Rex, who has also been a guest on the podcast talking about the two illustrated Discworld novels: Eric in #Pratchat7, "All the Fingle Ladies" and The Last Hero in #Pratchat55, "Mr Doodle, the Man on the Moon". The art for our subscriber-only bonus podcast, Ook Club, was created in George's style by her Papercuts Comics Festival co-director, Owen Heitmann.
At the end of every episode, you'll hear the dulcet tones of actor and singer Petra Elliott.
How to Follow Pratchat
"Following" a podcast means using an app – sometimes called a "podcatcher" – that checks our podcast feed periodically for new episodes and downloads them for you. Most podcast apps run on smartphones, and according to our stats the most popular ones include Apple Podcasts (the built-in one for iPhones), Google Podcasts (the free one from, well, Google), Overcast (free, for iPhone and iPad only) and Pocket Casts (also free, for iPhone and Android phones). You can find us in various podcast directories and streaming services like Apple Podcasts, Google Podcasts and Spotify; just search for "Pratchat". You can also use the buttons below.
Note that Pratchat does not run ads, so if you hear any during our podcast they have been inserted by the service you are using to follow us and we're not making any money out of them. Let us know if this is affecting your enjoyment of the show! You can help us get to the end of our mission by supporting us directly.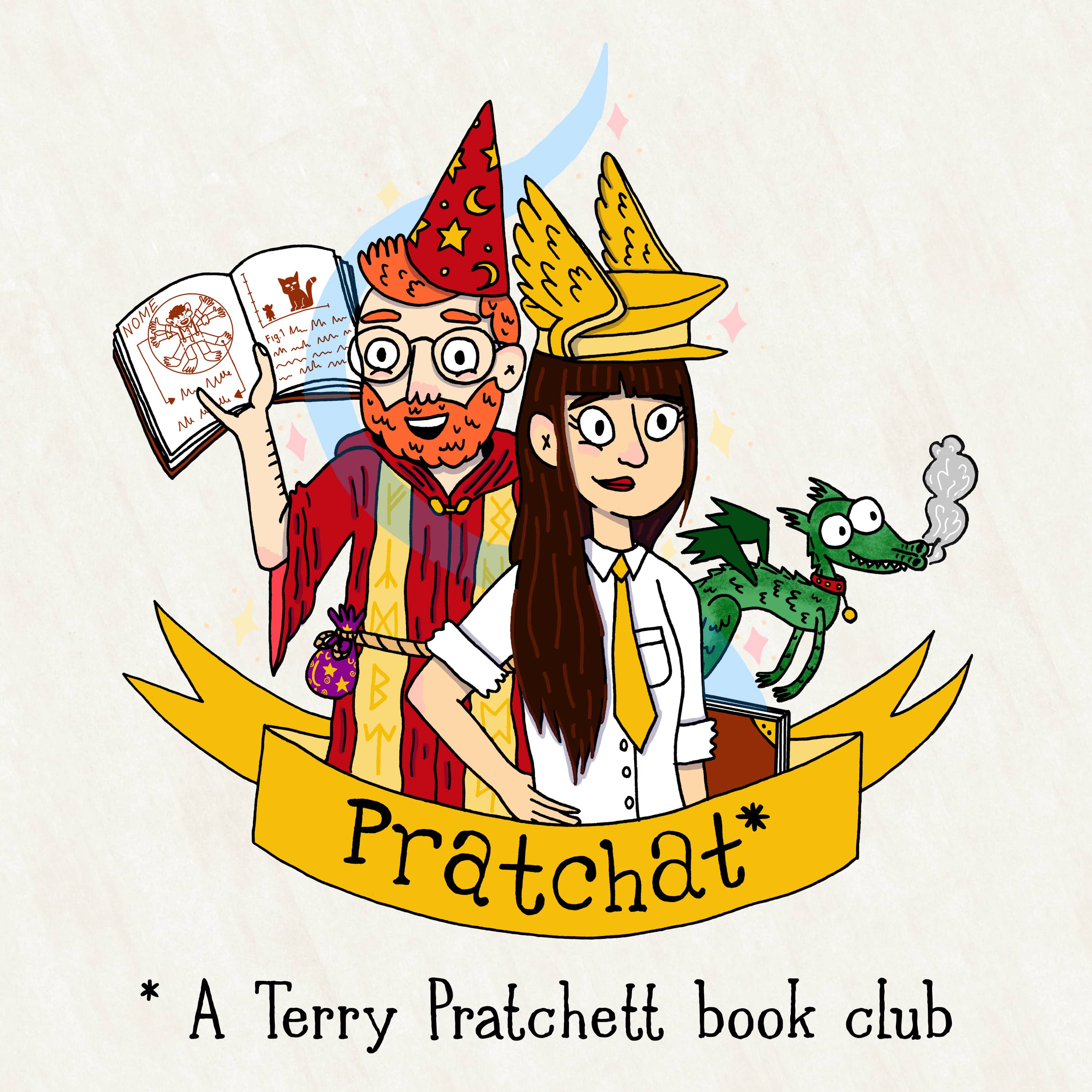 Pratchat - a Terry Pratchett and Discworld book club
Splendid Chaps Productions
Join writer Elizabeth Flux and comedian Ben McKenzie on their six(ish) year mission to read every Terry Pratchett novel - not just the Discworld ones! They'll read one a month, and discuss them with special guests, puns and footnotes. Episodes released on the 8th of each month (Australian time); check pratchatpodcast.com and the end of each episode for notice of the next book, and send in questions to us via social media! The explicit tag represents a fairly average Australian level of coarse language.