Pratchat will always be free, but it's an ambitious project: dissecting Death, gabbing about gods, weighing in on werewolves, conversing about con men… You know – just generally tackling difficult Pteppics. And that's just the Discworld!
We want to read and discuss every single one of Terry Pratchett's books – but doing proper justice to Pterry's work needs a lot of time. He wrote a lot of books! If we're going to make it to the end and commit to the whole six(ish) years, it's vital we make Pratchat sustainable.
We're not part of a podcast network, and we don't ever want to add sponsorship messages or ads to the show (for one thing, it would entirely ruin the book-club-with-your-friends feel we're aiming for). So we're turning to you! You can help by subscribing to Pratchat via Pozible (an Australian crowdfunding platform founded in 2010) for as little as $2 a month – and that's cuttin' our own throats!
Your support will help us produce the podcast by covering our costs and allowing us to devote the necessary time. More than that, you'll help make Pratchat even better – we hope to add episode transcripts, make bonus episodes, and upgrade our equipment. Plus you'll be helping to support a couple of freelancers working in the arts.
We've had some requests from listeners who would like to support the show outside of Pozible subscriptions; and now, you can! Just enter the amount you'd like to donate below (in the currency of your choice), and hit the button. These payments use the same secure Stripe payment gateway as our Pozible subscriptions; your credit card information is not stored on our website, and only submitted to Stripe.
By choosing to support the show you're ensuring its future. Plus, if you subscribe – and depending on which reward level you pick – you can even get some extra goodies for yourselves, like: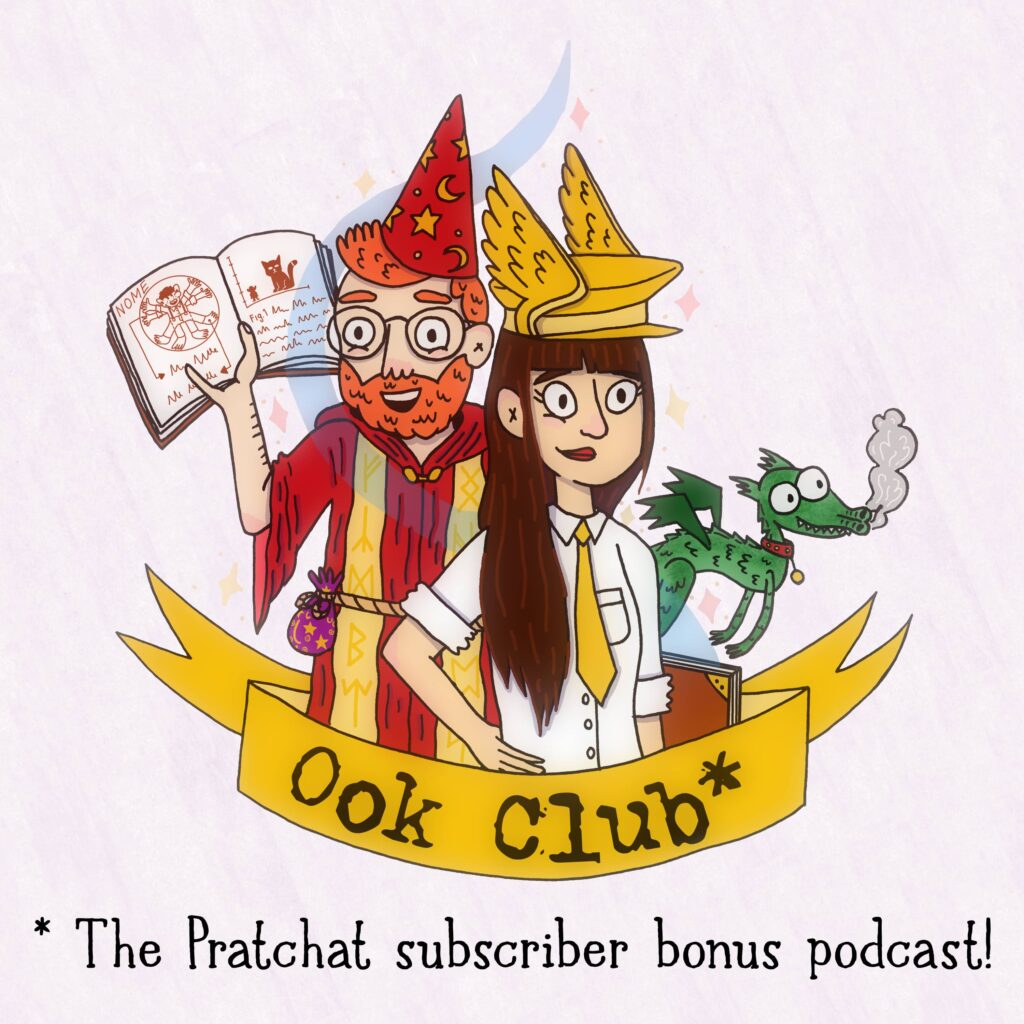 Our bonus podcast, Ook Club, shared only with subscribers
Access to a Discord chat server to talk to us and other subscribers live
Actual, physical mail (not delivered by Moist von Lipwig)
Direct input into the content of bonus episodes
But whether you support the show with money, help spread the word, or just listen along, your support means the (Disc)world to us. Thank you to each and every one of you.
Supporting us non-monetarily
We know not everyone can afford to give money to the podcasts they listen to! So here are some other ways you can really help us – or any podcast you love – by growing our audience and helping us find more folks who can chip in:
Tell your friends! The number one way people find new podcasts is still word of mouth.
Follow us in your podcast app. Some of the podcast charts use new followers as a way to determine rankings and so on, so using an app and clicking follow not only makes sure you get new episodes ASAP, it can also help others find us. You can find out how to do this on the About page.
Post about us on social media or in discussion groups and forums. (There are great Pratchett groups on Facebook, Reddit and many other places. We post in some ourselves, but most do not allow self-promotion.)
Give us a rating on whatever platform you use to listen to us. Those ratings do influence whether folks decide to click that play button or not, and reviews are even better. Plus we love to hear what people think of the show! Apple Podcasts and Spotify both have built-in ratings and reviews, and you can also find us on Podchaser and rate or review the show (and individual episodes) there.