These are the episode notes and errata for Pratchat episode 52, "A Near-Watch Experience", featuring guests Fury and Patrick Lenton, discussing BBC America's 2021 television series The Watch.
Iconographic Evidence
This is the best still we've found of the assassin Karen from Finance: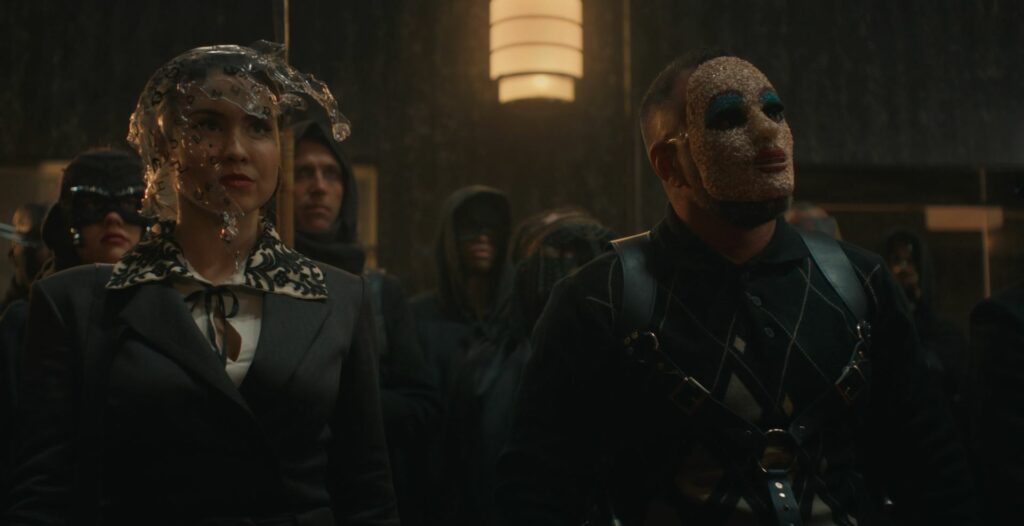 The Watch cast and crew
As mentioned in the footnote, we are not good at naming the cast and crew of the show this episode. Here are the key creative folks:
Crew
Head Writer and Executive Producer
Simon Allen
Writers
Joy Wilkinson ("Twilight Canyons")
Catherine Tregenna ("Not On My Watch")
Amrou Al-Kadhi ("The Dark in the Dark")
Ed Hime ("Nowhere in the Multiverse")
Directors
Craig Viveiros (episodes 1-2)
Brian Kelly (episodes 3-5)
Emma Sullivan (episodes 6-8)
Cast
Richard Dormer (Vimes)
Lara Rossi (Sybil)
Adam Hugill (Carrot)
Marama Corlett (Angua)
Joni Ayton-Kent (Cheery)
Samuel Adewunmi (Carcer)
Bianca Simone Mannie (Wonse)
Anna Chancellor (Vetinari)
Wendell Pierce (voice of Death)
Ralph Ineson (voice of Detritus)
Craig Macrae (Death/Detritus)
Matt Berry (voice of Gawain)
Ingrid Oliver (Dr Cruces)
Natalie Walsh (Karen From Finance/Goblin #4)
Ruth Madeley (Throat)
James Fleet (Archchancellor)
Notes and Errata
The episode title is pretty obvious this month, right?
The other podcast which covered The Watch episode by episode – yes, we've heard you and we're going to do it too – is Who Watches the Watch. Their discussion of the show starts with the podcast episode "WE WATCH THE WATCH", which covers the first two episodes of The Watch. (We've not listened to these, to remain fresh for this episode and also the episode-by-episode proper recap, so do let us know if you listen and enjoy them. Watch the website for details on our mini-series!)
Fury previously joined us in May 2019 for #Pratchat19, "It Don't Mean a Thing If It Ain't Got Rocks In", discussing Soul Music; and in March 2020 for #Pratchat29, "Great Rimward Land", to discuss The Last Continent.
Patrick's roles at Junkee included Entertainment Editor, Deputy Editor and then proper, capital E, he's the boss of what people write Editor. (That's not how he described it.) He's also written for the publication; here's a page listing all his work for the site.
All the heterosexual nonsense I was forced to endure started out as a series of recaps by Patrick and Bec Shaw (aka @Brocklesnitch) of The Bachelor and The Bachelorette for Junkee. They've since taken it independent; you can find it on the newsletter platform substack. They have also branched out to cover various Netflix Christmas films and now Married At First Sight (though this latter experiment was cut short as the show proved too horrible to continue with – see below).
Married at First Sight (aka MAFS) is an Australian version of the Danish reality television show Gift ved første blik (er…"Married at First Sight") in which contestants who've not previously met are paired up by "experts" and carry out the "social experiment" of being "married". Those last scare quotes are especially warranted in the Australian version, as contestants can't legally be married – the Australian Marriage Act 1961 requires a minimum of 28 days' notice before a wedding. (Contestants have a non-binding commitment ceremony instead.) The original and its clones – which have appeared in fourteen countries around the world – are depressingly popular (the Australian MAFS is in its ninth season), even though they often showcase the worst traditional heterosexual gender roles have to offer. Another contributing factor to the tone of the show is that the contestants are often older and seemingly genuinely desperate in their search for love – as opposed to contestants on lighter shows like The Bachelor, where many of them are more interested in becoming a reality television star or increasing their reach as an influencer.
Below is the logo for The Watch; as you can see from the poster, Ben's wrong – it's not the same as the lettering on the Watch House in the show! The same font is used on the Watch badge, though, which is displayed as part of the title card, so that might be where he got confused (though the logo is also shown there).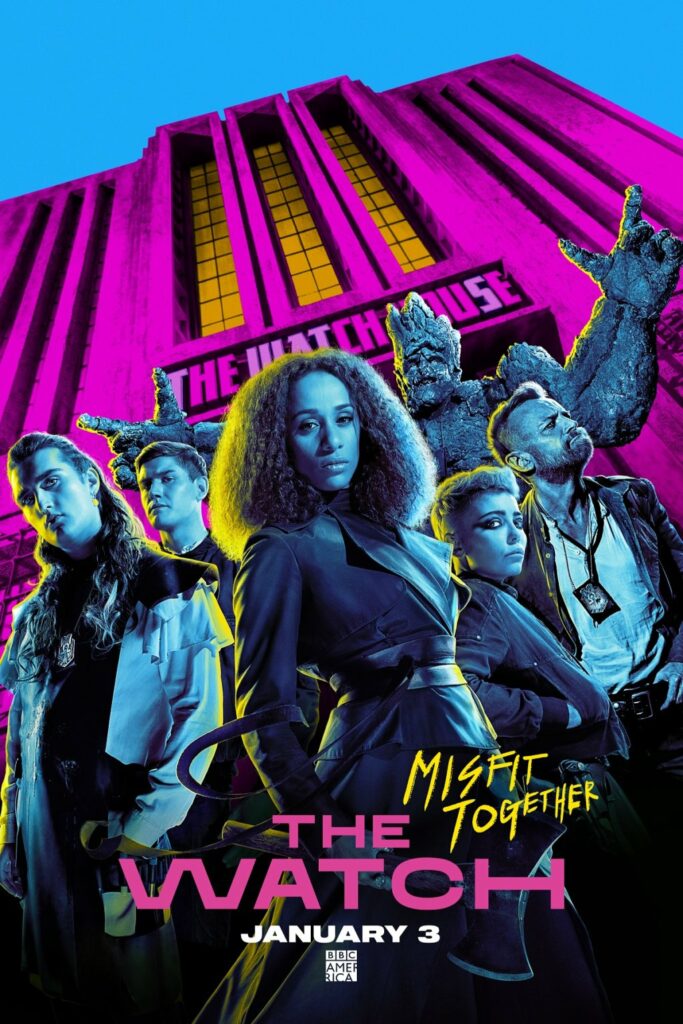 Black Books is a Channel 4 sitcom about misanthropic drunken bookshop owner Bernard Black (co-creator Dylan Moran) and his friends, the naive and optimistic Manny Bianco (Bill Bailey) and neurotic Fran Katzenjammer (Tamsin Greig). It ran for three series between 2000 and 2004.
Garth Merenghi's Darkplace was a 2004 spoof horror television series created for Channel 4 by by Richard Ayoade and Matthew Holness. The titular show is treated as a classic 1980s series – largely a spoof of the work of Steven King and other popular horror of the 80s – which was never broadcast. Scenes from the original show (made to look as though shot on cheap video) are played alongside modern day interviews with its writer and star, Garth Merenghi (played by Holness) and his agent, Dean Learner (played by Ayoade). The show was inspired by the pair's prior stage shows Garth Merenghi's Fright Knight and Garth Merenghi's Netherhead, the latter of which one the Perrier Award at the 2001 Edinburgh Fringe. The television series also features Matt Berry (more about him below), and was followed up by the spin-off Man to Man with Dean Learner, a chat show in which Ayoade's character interviewed various fictional characters played by Holness, including Merenghi.
"A near-Vimes experience" is indeed from one of the books – specifically Thud! But as we've not covered it yet, we won't say any more.
A "ring light" is used in photography and film as a way to provide even illumination to a subject fairly close to the camera, which is placed in the middle of the ring. Modern ring lights, which use LEDs and can operate without using much power at a variety of intensities and levels of warmth, are an inexpensive way to light yourself when taking your own photos, and so have become popular with influencers, cosplayers and Instagram users. When the subject is close, a reflection of the ring light often appears in their pupils – and effect seen on Vimes in the opening moments of A Near Vimes Experience.
The Wire was a critically acclaimed crime drama produced by HBO between 2002 and 2008. Set in Baltimore, each of its five seasons focusses on a different group and their relationship to the police, who appeared in all five seasons. Wendell Pierce was the first actor to be cast for the show, as homicide detective William "The Bunk" Moreland, who like many of the characters was based on a real person.
The original "second-hand set of dimensions" are the very first words of the Discworld series, appearing at the start of The Colour of Magic. Of note: the early trailers for The Watch, including the New York Comic-Con teaser, used the more verbatim version "In a distant and second-hand set of dimensions"; it was truncated to "Somewhere in a secondhand dimension" for broadcast.
The best article to read about the the development of show is Marc Burrows' "Calling time on The Watch? What went wrong (and right) with the latest Terry Pratchett adaptation" for the pop culture website heyuguys.com. You might also be interested in this timeline researched by Discworld Monthly, though note it was mostly compiled before the show was released.
SyFy is a cable channel owned by NBC Universal, specialising in (yes) science fiction. It was launched in 1992 as the Sci-Fi Channel, dropped the "Channel" in 1999, and changed the spelling in 2009. Before the rise of streaming services, SyFy often picked up sci-fi and fantasy shows which were cancelled by other networks, including Sliders and Mystery Science Theatre 3000. They are also noted for making lower budget sci-fi series.
Killjoys is a 2015 sci-fi series following the adventures of three interplanetary bounty hunters, made for the Canadian channel Space (now known as the CTV Sci-Fi Channel) and SyFy. It ran for five ten-episode seasons, and starred Hannah John-Kamen,

Aaron Ashmore

and Luke Macfarlane.
Sucker Punch is a 2011 action film directed and co-written by Zack Snyder. It stars Emily Browning, Abbie Cornish, Jena Malone and Vanessa Hudgens as young women committed to an insane asylum in the 1960s who retreat into a fantasy world of guns, aliens and robots, which represents their attempt to escape before they are lobotomised. Snyder described it as "Alice in Wonderland with machine guns", which is…look, not entirely inaccurate.
Torchwood was a 2007 spin-off from Doctor Who in which the Doctor's immortal companion Captain Jack Harkness leads the Cardiff team of Torchwood, a secret organisation who protect Earth against extraterrestrial threats. It was meant to be a more adult show, and that's more or less true if you assume "adult" means swearing and fucking. Torchwood had its moments, but like The Watch suffered from a wildly fluctuating tone and a seeming lack of knowing what kind of show it wanted to be, especially in its first season. (The third season is basically a different show altogether, and very good (if very grim); the fourth season was an American co-production that isn't as good, but is still interesting.) Only Catherine Tregenna worked as a writer on both shows, but in Fury's defence she does represent 20% of The Watch's writing team. In addition, Ed Himes and Joy Wilkinson have both written for Doctor Who under its current showrunner, Chris Chibnall, who was also the man in charge of Torchwood for its first two seasons, so there's some of the same DNA there.
The extremely faithful adaptation of Good Omens, made for Amazon Prime in 2019, was written by Neil Gaiman, who also served as the show runner alongside a production team headed by Terry's assistant Rob Wilkins (who also has an executive producer credit on The Watch) and Rob Brown (who was one of the original producers for The Watch, working on it from the early days of the project until around 2015). Fury describes it as "so bad"; we'll cover it eventually and let you know what we think. A second season is currently in production, based on ideas Neil and Terry had back in the day for a potential sequel – as explained in this post on Neil's blog.
The Wheel of Time is a 2021 Amazon Prime TV series based on Robert Jordan's best-selling fantasy book series, which began in 1990 with The Eye of the World. The full series comprises fourteen novels, the last three of which were finished by Brandon Sanderson after Jordan's death in 2007. There's also a prequel, New Spring, which was originally published as a novella in the 1998 collection Legends – which you might remember was where Terry Pratchett first published "The Sea and Little Fishes" (see #Pratchat39).
The Lord of the Rings: The Rings of Power is another Amazon Prime TV series, set to be released in 2022. It is set thousands of years before the events of The Lord of the Rings novels; Bilbo and Frodo's adventures take place in the Third Age of Middle-earth, while The Rings of Power is set in the Second Age, a period only loosely detailed by Tolkien. (The Silmarillion, which tells of the history and mythology of Middle-earth, mostly deals with the First Age, with only one of its five parts detailing the Second Age.) Based on the deal struck by Amazon to secure the rights to The Lord of the Rings, it will run for five seasons and have a total budget of $US1 billion, making it the most expensive television series ever made.
Ben says a few times that we'll talk about the issue of "copaganda" and the "police as resistance" theme of The Watch, but we didn't get there in the end. We'll be sure to talk more about it in the episode by episode mini-series, and probably also in our episode about Night Watch. But in brief, "copaganda" – a Portmanteau of "cop" and "propaganda" – is the tendency for media outlets to run stories of heroism and bravery in the police force over stories of corruption, incompetence or systemic prejudice. In recent years, as the problems with policing grow worse (especially, but not only, in America), this has been extended to the kinds of fictional shows that promote police officers in an always-friendly light. The lighthearted comedy Brooklyn-99, set in a police precinct in New York, wrapped up its last season trying to deal with some of the real issues with American policing, with mixed results. In this context, the idea of police being "the resistance" when in reality they are part of the oppressive system is a bit…off. (Even if it is true to the spirit of the Watch in the books, especially Night Watch.)
Ben's got things a bit mixed up around when we first see Carcer, condensing the flashbacksa bit, but the first twenty years ago sequence ends with Captain Keel walking out to confront Carcer at about the 2:40 mark. Vimes then spots Carcer in the Drum at around 10 minutes, prompting the flashback of him shooting Keel. So that's about seven and a half minutes later. (We don't see the chase that ends with him falling from the University tower until Vimes is tracking Carcer via the iconographs at around the 18 minute mark.)
There are eight books featuring the Ankh-Morpork City Watch (or mostly just Vimes, in some of the later ones): Guards! Guards!, Men at Arms, Feet of Clay, Jingo, The Fifth Elephant, Night Watch, Thud! and Snuff. They also star in the short story "Theatre of Cruelty", set between Guards! Guards! and Men at Arms, and – in additional to cameos in many books set in Ankh-Morpork – make significant appearances in The Truth and Monstrous Regiment.
The episode where Vimes goes off into the desert is episode five, "Not on My Watch"; Vimes is heading off to destroy Wayne by throwing him in the lake which destroys magical artefacts. The sequence starts at around the 7:53 mark. The "Miami Vice music" plays until he falls down a sand dune around 30 seconds later. Miami Vice was an American crime drama that ran on NBC between 1984 and 1990, produced by Michael Mann and telling stories of vice cops who used the confiscated belongings of drug dealers to go undercover. It drew heavily on the New Wave – a cultural movement that followed the punk era, but more quirky and weird than post-punk, with an emphasis on stylised visuals. The show was also famous for its synthesised soundtrack; the title music was by Czech-American composer Jan Hammer, and Vimes' accompaniment definitely has a similar vibe, though it's not the actual song.
Wingspan is published by Stonemeier Games (in English) and designed by Elizabeth Hargrave. The gorgeous art of the birds is by a number of artists including Beth Sobel, Natalia Rojas and Ana Maria Martinez. Two expansions for the game add European and Oceanic birds into the mix – the original game is mostly North American species.
New Girl is an American sitcom that aired on Fox for seven seasons between 2011 and 2018. It stars Zoey Deschanel as Jess Day, a quirky teacher who after coming home to find her boyfriend teaching on her immediately moves out into a New York apartment with three guys.
Oath: Chronicles of Exile and Empire is published by Leder Games (in English) and designed by Cole Wehrle, with very distinctive art by Kyle Ferrin. The pair previous worked on the hit looks-cute-but-is-actually-cutthroat game Root, about cats, birds, foxes, bunnies, mice and other cute critters warring over their woodland home.
Disney isn't just considering making a live-action Snow White and Seven Dwarves – it's in pre-production and has cast West Side Story's Rachel Zegler as Snow White, and Gal "Wonder Woman" Gadot as the Evil Queen. The news was met in late January with outrage by disability activists, including actor Peter Dinklage – both for the treatment of dwarf characters in the film, and the plans that they would be CGI characters, presumably voiced by famous able-bodied actors. This opinion piece on MSNBC by Eric Garcia sums up where things are at.
The scene in which Carrot calms down a tavern full of dwarfs occurs in Guards! Guards!, though he doesn't sing – he merely speaks to them in dwarfish and chastises them, wondering what their mothers – "who first showed you how to use a pickaxe" – would think of their behaviour.
Matt Berry (Gawain/Wayne, the sword) is an English actor and comedian who gained fame for supporting roles in The Mighty Boosh and The IT Crowd before starring in his own shows including dark weird sitcom Snuff Box, showbiz spoof Toast of London (and its recent sequel, Toast of Tinseltown) and landing on of the main roles in the US television version of What We Do in the Shadows. He's no stranger to voice work, appearing as a recurring character in Matt Groening's fantasy animated show Disenchantment and as the voice of the dried 8D8 in Disney's latest Star Wars show, The Book of Boba Fett.
We'll see if we can source that clip of the New Zealand LARP golem costume from Fury, but it's worth noting in case of any confusion that Detritus is not CGI – he's entirely a practical effect, a costume using stilts and arm extensions worn by performer Craig Macrae, who also plays the physical form of Death. (LARP, by the way, is short for live-action roleplay – a form of roleplaying game in which people dress up as and physically act out their character's adventures, rather than sitting down around a table and imagining them.)
Terry Pratchett's Going Postal was an adaptation made by The Mob for Sky One in 2010, following their adaptations of Hogfather in 2006 and The Colour of Magic in 2008. Mr Pump, the golem tasked by the Patrician with keeping an eye on Moist von Lipwig, is portrayed physically by Dutch actor and stuntman Marnix Van Den Broeke in a pretty awesome costume that looks like its made from terracotta. (Van Den Broeke also wore the Death costume in The Mob's other adaptations.) Mr Pump's voice is provided by English actor Nicholas Farrell.
Danger 5 is a 2012 Australian action-comedy produced for SBS by Dinosaur, a production company formed by the team behind hit web series Italian Spiderman, a spoof of 1960s Italian action films. Danger 5 is a campy spoof of "boy's own" and spy adventure serials of the 1960s, like Voyage to the Bottom of the Sea or Danger Man. The first season sees the "Danger 5" team of World War II Allied agents thwarting a number of Adolf Hitler's schemes, though Hitler himself always escapes via the same footage of him jumping through a window. The second season, broadcast in 2015, gets more absurd and moves the characters into the 1980s, though Hitler is still their nemesis.
Boromir is a human, a military commander from Gondor who accompanies Frodo and his companions on their quest in The Lord of the Rings: Fellowship of the Ring. As Ben mentions, he dies after being shot by three arrows, and in the film version is played by Sean Bean; this role and a few others in which his character dies prompted the frequently quoted bit of lore that he has died more on-screen deaths than any other actor, though that isn't true. (At one point the actual winner of that title was said to be John Hurt, but Ben thinks Christopher Lee probably has a better claim.)
Fury likens carrying the rocky bit of Detritus around to the famous scene in Hamlet, Act V Scene i, in which Hamlet comes across the skull of Yorick, the king's Fool, whom he knew as a boy.
The games Ben is talking about are Vampire: The Masquerade and Werewolf: The Apocalypse, part of the original World of Darkness from White Wolf Games. In Vampire, each character has been turned into one of the undead and must fight a nightly struggle between the animal desires of the "Beast Within", learning how to feed it enough to sate it without becoming monstrous. The tagline of Vampire: The Masquerade is "A Storytelling Game of Personal Horror", with the in-character motto "A Beast I am, lest a Beast I become." Werewolf: The Apocalypse's tagline was the slightly different "A Storytelling Game of Savage Horror", but this was dropped from later editions; werewolves had to balance their human and wolf sides, the latter represented by their supernatural Rage.
CCTV – short for Closed-circuit Television, meaning a camera that transmits a single signal to a specific and usually small number of monitors – has become the shorthand term for video surveillance. In most precedural crime dramas, as well as older police dramas like The Bill, it's common for police to request CCTV from the area where a crime was committed. This mirrors real life, where police in many countries have the power to request footage from the owners of security cameras, which are primarily private businesses and individuals.
Various estimates put the number of CCTV cameras in London at around half a million, though only around 25,000 or fewer of those are operated by government authorities. They were first introduced in large numbers in the late 1980s, so Ben's estimate that London has been one of the most heavily camera-monitored cities for 30 years is probably about right.
The writers of The Watch are indeed all British.
Miranda Hart is an English comedian and actor best known for her television work, including her brilliant self-titled BBC sitcom Miranda. (On a side note, Miranda co-stars Tom Ellis, now better known for playing the title role in the Netflix series Lucifer, based on Neil Gaiman's version of the character.) She's also played dramatic roles with a bit of comedy in them, including in the hit medical drama Call the Midwife, and Autumn de Wilde's 2021 film adaptation Emma. starring Anna Taylor-Joy. We previously talked about her playing Lady Sybil in #Pratchat27, "Leshp Miserablés".
It's true that in television programs – and especially American ones, both dramas and comedies – the majority of characters are upper-middle-class, professional people. They are usually lawyers, doctors, advertising executives, police officers, writers, broadcasters and so on. While this has changed in the last decade or so, there's still an imbalance – perhaps more so than the improved (but still not great) situation for characters who aren't straight white men.
There have been many "generic fantasy world maps" like the ones Ben mentions; one of the fancier ones is "Clichéa" by DeviantArt map maker Sarithus. You can also find a much earlier version of the same idea in a book we've mentioned before: Diana Wynne-Jones' The Tough Guide to Fantasyland.
"Tulip and Pin" is a reference to the characters Mr Pin and Mr Tulip, who appear in The Truth (see #Pratchat42, "Truth, The Printing Press and Every -ing"). The poster appears about twenty minutes into the episode, and reads:
Pin & Tulip's Goblin Labour
Enquire at the docks for an immediate quote
Cheap, Reliable, Disposable
The character of Throat is indeed credited as "Throat Dibbler". She never says "And that's cuttin' me own throat," but the character's catchphrase does appear on a poster in episode two.
Blindspotting is a 2021 American comedy-drama television series on the Starz network, which forms a sequel to the 2018 film Blindspotting. It's set in Oakland, California, and stars Jasmine Cephas Jones as Ashley, a supporting character from the film, who is forced to move in with her mother in law when her partner Miles is sent to prison. It was created by Daveed Diggs (of Hamilton and The Unbreakable Kimmy Schmidt fame) and Rafael Casal, who also appear as their characters from the film (Casal plays Miles).
On the question of whether the writers have written comedy before, the answer does appear to be no. Mostly they have previous credits on drama and fantasy shows. (We don't think no-one should be allowed to work on comedy without prior experience, but The Watch's mix of absurdism, satire and farce might have benefitted from some; it's a tricky assignment!) Though it's worth noting is that showrunner Simon Allen wrote for both New Tricks and M. I. High, both shows with a mix of action and comedy.
See the top of this discussion for a photo of the fictional Karen From Finance, but the real life version is the drag persona of Richard Chadwick. This more famous Karen – in Australia at any rate – has been around since at least 2017, and has toured internationally with her shows Death Drop and Out of Office. You can find out more about her at karenfromfinance.com.
Karen From Finance was indeed a contestant on the first season of Ru Paul's Drag Race Down Under in 2021. Various commentators criticised the show, not least for its choice of contestants. Past photos of Scarlet Adams showed her performer appearing on stage in blackface in a parody of Aboriginal Australians, and Karen From Finance was revealed to have a tattoo of a golliwog, a type of doll based on (or at very least associated with) racist depictions of Black people. Both gave seemingly sincere apologies for their past actions, but it highlighted the majority white cast of the show – especially after both non-white contestants were eliminated, while one of the eliminated white contestants was allowed to return with little explanation. It's generally seen by Drag Race fans as a low-point, but perhaps they'll do better in season two, which is coming in 2022.
The "a wizard did it" trope is when something that doesn't makes sense in a fantasy show is explained away by saying it's the result of magic, which supposedly doesn't have to make normal logical sense. (Pratchett's magic, at least in the Discworld, specifically doesn't work like this and always makes at least narrative sense. In many books – especially the early ones – it relies on principles of conservation of energy similar to physics, which gives it many limitations.)
Lock, Stock and Two Smoking Barrels was the debut film from English director Guy Ritchie. It's a crime caper film in which a number of plots start separately and converge at the end on a pair of expensive antique shotguns. We last mentioned it in #Pratchat36, "Home Alone, But Vampires", and used it as inspiration for the title of #Pratchat33, "Cat, Rats and Two Meddling Kids".
In Guards! Guards!, Lupine Wonse was Lord Vetinari's secretary, and the author of the plot to summon the Noble Dragon and depose him in favour of a King. One detail we neglected to mention is that in the novel, Wonse is a childhood friend of Vimes – something seemingly missing from The Watch version, even though they were both members of Carcer's gang. (Though presumably this Wonse was much younger than Vimes, as we discuss regarding the potential age gap between Wonse and Carcer.) We discussed Wonse, and the resemblance of his cult, the Elucidated Brethren of the Ebon Night, to modern-day members of the "manosphere", back in #Pratchat7A, "The Curious Incident of the Dragon and the Night Watch".
Jocasta Wiggs appears as a minor character in one of the opening scenes of Night Watch – so expect to hear more about her in our Night Watch episode!
If you want to learn more about punk, you could watch the documentary Punk Attitude, or – for more on the visual style – listen to episode six of the podcast series Articles of Interest, "Punk Style". In brief, punk rock was a DIY counter-culture response to 1970s rock music, which was perceived as having sold out for money. It drew on 1960s garage rock as a musical influence, and was explicitly anti-establishment and provocative.
The "Rule of Three" (not usually the "rule of threes" plural) in comedy and writing is basically the idea that a collection of three things is usually the funniest. The reason for this is that three is the minimum number of things that can establish and then break a pattern, one of the basic premises of joke writing.
Simon Allen is credited as an associate producer of the 2012 BBC spy drama Hunted (starring Australia's own Melissa George), and the 2018 German war drama Das Boot for Sky One, which forms a sequel to the 1981 film of the same name. His credit on The Musketeers is as executive producer for the third and final season in 2016. Whether he was the show runner on any of these is a little hard to discern, since it's not a specific credit in the UK, but the executive producer title makes it likely for at least The Musketeers, and this is corroborated by info we found elsewhere.
The BBC's 2014 series The Musketeers is not actually very steampunk at all, though its first season does feature Peter Capaldi as Cardinal Richelieu. (He was unable to return in later seasons as during filming on the first one in 2013 he accepted the role of the Twelfth Doctor, a dream of his since childhood.) Ben is really thinking of the 2011 film version, The Three Musketeers, which stars Orlando Bloom, Milla Jovovich and Mads Mikkelsen (though not as the musketeers, who are played by Matthew Macfadyen, Ray Stevenson, Luke Evans and Logan Lerman).
Dan Harmon is the creator of the television series Community and Rick & Morty. We couldn't find a specific essay in which he talks about characters needing to have one core trait that doesn't change, but he's mentioned similar advice many times in blogs and interviews.
Ben mentions the Summoning Dark, which is the concept from the novel Thud! on which "the Dark in the Dark" is based. It has a very different nature and story in the book, so we'll leave that for our future Thud! episode.
The 2016 Netflix series Dirk Gently's Holistic Detective Agency is very loosely based on Douglas Adams' 1987 novel Dirk Gently's Holistic Detective Agency, which was itself largely a mash-up of Adams' two Doctor Who scripts, City of Death (from which he takes a plot about an alien spacecraft exploding in the distant past and sparking the creation of life on Earth) and Shada (from which he takes the idea of an alien time traveller hiding out as a professor in an obscure Oxbridge college). The series uses almost none of the characters or situations from the novel or its sequels The Long Dark Tea-time of the Soul and the unfinished Salmon of Doubt, though there are little Easter eggs and nods to all of them. Dirk in the TV show (played brilliantly by Samuel Barnett) is much younger and the product of a government conspiracy, but somehow the essential spirit of the original remains while being welded to a bunch of new supporting characters and the infrastructure required to sustain two seasons of episodic television. Tonally and stylistically it has a few things in common with The Watch, especially in the second season, but it's based in a real world with an extra layer of very weird stuff, which helps ground everything. Ben kind of loved it, and to be honest preferred it to the earlier English adaptation Dirk Gently (2010-2012), which starred Stephen Mangan and was much more similar to original novel.
Pratchett's first few Discworld books – in which, as Fury puts it, he "set up a bunch of shit, flails a bit, and finds his feet" – include the early Rincewind books, which are still largely based in parody of the fantasy genre as a whole, and Equal Rites, in which we get an early and mostly fully-formed version of Granny Weatherwax and another witch who seems like a prototype of Nanny Ogg. There's also a huge shift in the series in which the fantasy fades into the background to support the stories about stuff like war, class, racism and violence, rather than being the point.
The exclusive Narrativia deal was announced on the 28th of April, 2020. It's with distributor Endeavour Content and production company Motive Pictures, the latter of which was launched in 2019 by Simon Maxwell, backed by Endeavour. Maxwell was previously Head of International Drama at Channel 4 Television, while the Motive Pictures team also includes Executive Producer Sam Lavender of Film4, who worked on The Favourite and The Lobster. It's not clear if that definitely means no more of The Watch – the licensing deal between BBC Studios and Narrativia isn't exactly public knowledge – but it's possible, as Marc Burrows suggests in the article we linked earlier, that the screen rights to the Watch books specifically might still belong to them.
Ben will share as many Easter eggs as he can when we make the episode-by-episode mini-series podcast, but here's a quick list of a few of his favourites:

Carcer's surname is never mentioned in the published version of Night Watch, but "Carcer Dun" is his full name in an earlier preview of the book.
Lady Sybil's "school" is called "The Sunshine Rescue Centre for Broken Bedraggled Things", a variation on the various "Sunshine Sanctuaries" Sybil runs in the books.
Vimes drinking Bearhugger's whiskey (we never see the label up close, but the design is cool).
The song "Gold", and the number of words in dwarfish for kinds of gold and rock, are mentioned several times in the books. (Ben also loved the brief moment when Carrot and Cheery bond over the song, one of the few times Carrot's dwarfish heritage comes out.)
Twilight Canyons is named after an idea Pratchett had for a story about retired heroes who were losing their memories, mentioned in the afterword to The Shepherd's Crown.
Thanks for reading our notes! If we missed anything, or you have questions, please let us know.