Theses are the show notes and errata for episode 33, "Cat, Rats and Two Meddling Kids", featuring guest Michelle Dew, discussing the 2001 Discworld novel The Amazing Maurice and His Educated Rodents.
Iconographic Evidence
Thanks to listener Steavie, who co-directed the Brisbane Arts Theatre's 2014 production, here are some images of the musical version of The Amazing Maurice and His Educated Rodents. (See below for more about the musical.) The Brisbane Arts Theatre usually produces at least one Discworld adaptation every year; while they took a break during the first two years of the COVID-19 pandemic, they resumed in 2022 with Night Watch.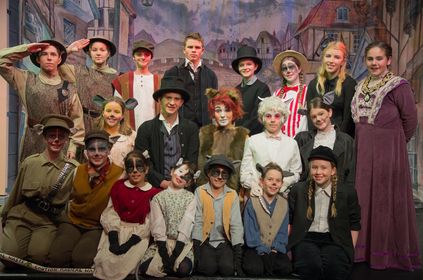 Notes and Errata
The episode title references both Lock, Stock and Two Smoking Barrels, Guy Ritchie's first feature film from 1998, and the common refrain of unmasked villains in the cartoon series Scooby Doo – a show Malicia would probably have mixed feelings about.
Überwald is located about 1,500 miles Hubwards and Widdershins of Ankh-Morpork, according to The Discworld Mappe. The name "Überwald" is a pretty direct German translation of "Transylvania", both meaning "beyond (or over) the forest".
Hermione is an ancient Greek name meaning "Princess of Hermes"; in classical mythology, Hermione is the daughter of Menelaus, King of Sparta, and is a child at the start of the Trojan War. Hermione Granger is the most notable contemporary character to bear the name, but others appear in the works of P G Wodehouse, D H Lawrence and Pee-wee Herman.
This book was the first standard Discworld novel with cover art not by Josh Kirby. The Last Hero, published earlier the same year, was a large-format illustrated book with a cover and internal illustrations by Paul Kidby. For more on that see #Pratchat55, "Mr Doodle, the Man on the Moon". Kidby would take over the Discworld covers from the next book, Night Watch. The Amazing Maurice was published only a month or so after Kirby's death, so we'd speculate the change was mostly due to it being a children's book – while Kirby did covers for the re-issue of The Carpet People and the original Truckers trilogy, the Johnny Maxwell books each had art by a different artist, though Kirby illustrations were used for some foreign language editions. The original Amazing Maurice cover was by David Wyatt; Ben's edition has a cover by Paul Kidby; and Michelle's edition of the audiobook has a cover by Bill Mayer. The newest edition has cover art by Laura Ellen Anderson. You can see all of these on the L-Space wiki entry for the book.    
"Crazy Old Maurice" is the nickname of Belle's father, an "eccentric inventor", in the Disney version of Beauty and the Beast. Gaston calls him by this derogatory nickname in song. The inventor angle is a departure from the original fairytale, in which Belle's father is a failed businessman who has lost all his money. While there are certainly a few Beauty and the Beast references in The Simpsons, we couldn't find any evidence of this one.
The Pied Piper of Hamelin – or Hameln, as the real German town's name is properly spelled (thank you Sven) – is a folk tale with origins that go back to around 1300 CE, though it may also have been inspired by real history (see below). The most common version of the story is that the town is plagued with rats and hires a piper with magical powers to get rid of them. (He's "pied", meaning he was dressed in gaudy or multicoloured clothing.) Once the job is done, the town's mayor refuses to pay the piper (giving rise to the modern idiom); in retaliation he uses his music to lead all the children of the town into a crack in a nearby mountain, which seals shut – leaving only one young boy, with a lame leg, behind. In the Aarne-Thomspson-Uther index, which categorises folk tales, it is classified as ATU 570, "The Rat-Catcher".

Unlike most folk tales, which have their origins in ancient mythology, the pied piper story seems to be based on an historical event in which a majority of the children in Hameln were lost. Theories include them dying in an accident, being captured and sold off to workhouses, or being forced to move to other regions, though it's all very mysterious. For more on this fascinating aspect of the story, we recommend "Narratively Satisfying Lever", the second episode about The Amazing Maurice from sibling podcast The Truth Shall Make Ye Fret.

The Netflix show Liz remembers is 2019's The Society; it's a weird modern twist, loosely inspired by the legend. A second season is due late this year.
Robert Browning's "The Pied Piper of Hamelin" is probably the most famous English language version of the story, and is still popular thanks to it's dynamic rhythm and catchy rhymes. It was first published as the last poem in his 1842 book Dramatic Lyrics. (Ben is wrong that Pratchett quotes it directly; he closely paraphrases it.)
Pet rats are usually domesticated Norway Rats (Rattus norvegicus), aka laboratory rats or "Fancy Rats". Michelle is spot on about their lifespans: they live on average for 2-3 years, but can live up to 4-5 years if well cared for (and lucky). The oldest known pet rat we could find was Rodney, who lived in Japan and died at the age of seven years and four months in 1990. (We couldn't verify this for sure but it seems legit.)
Überwald is first mentioned by name as the home country of both Angua and Cheery Littlebottom in Feet of Clay (discussed in #Pratchat24, "Arsenic and Old Clays"), and plays a major part in both Carpe Jugulum and The Fifth Elephant (both published shortly before The Amazing Maurice in the series). But Granny Weatherwax and her Lancre coven visit a small town in the shadow of a castle on their way to Genua in Witches Abroad (see #Pratchat12, "Brooms, Boats and Pumpkinmobiles"), and while neither the town nor country are named, it's clearly the same place.
Scrote is a small town in the Sto Plains, and like most places there makes most of its money from cabbage farming. It features briefly (but memorably) in Soul Music, when The Band With Rocks In stops there for the night while on tour at the Jolly Cabbage. Death also visits Scrote during the events of Hogfather.
"Rathaus" – pronounced "RART-house" – is indeed the German term for Town Hall. It comes from the words "rat" meaning "council", and "haus" meaning…er…well you can probably figure that one out.
The Rat Name Game is the invention of Pratchat subscriber Joel Molin. (We mention him later in the questions section, but felt it was remiss of us not to mention his name at the time when we played it.) Send us yours using the hashtag #Pratchat33!
We've mentioned The Good Place before; the short version is that it's a sit-com in which Eleanor (Kristen Bell) dies, ends up in a heavenly afterlife, and quickly realises she's been swapped with someone else by mistake. Her supposed soul mate, an ethics professor (William Jackson Harper), agrees to help her learn to be a better person.
The film adaptation of the book, titled The Amazing Maurice, is a co-production between German studio Ulysses Filmproduktion and the Irish Cantilever Group. It was announced in June 2019, with the more recent news in October 2019 that it had scored a global distribution deal. What we know so far is that it has an "unexpected" script by Terry Rossio, who wrote Shrek and has worked with Disney; character designs by Carter Goodrich, best known for Ratatouille and Despicable Me; and the directors will be Toby Genkel and Florian Westermann, whose previous work is not well-known outside of Germany. Ulysses Filmproduktion list it as "in production" on their web site, and the announcements gave an expected release date of 2022. There's no word on how COVID-19 delays or the exclusive Narrativia/Motive Pictures deal have affected the production, so we'll just have to wait and see.
The "if a dog wore pants" meme stormed the Internet in 2015 and spawned many imitators and extrapolations.
The theatre cat in the Andrew Lloyd-Weber musical Cats is Gus, invented by T. S. Eliot in the poem "Gus, the Theatre Cat". His full name is "Asparagus"; he was played by Stephen Tate in the original West End cast in 1981, and by Ian McKellan in the 2019 film.
The musical version of The Amazing Maurice and His Educated Rodents (see above for some photos) seems to now only be available as a package for schools that includes photocopiable scripts, limited performance rights and supporting materials. It was written by Matthew Holmes, who also created a similar adaptation of Johnny and the Bomb. We've heard mixed reviews; one listener thought it sacrificed a lot of the humour, and considered the Stephen Briggs theatrical version superior. On the other hand Steavie – who directed the production in Brisbane – feels it does a great job of paring the story back to the essentials to make room for some great songs – including ones for the Trap Squad and the Rat King. Steavie thinks its the best Hopefully we'll get to see it one day!
In the 2001 Dreamworks animated film Shrek, Lord Farquaad is the ruler of Duloc, a city-state where he has outlawed fairytale creatures and the citizens live in austerity. (The Pied Piper appears in the fourth film in the series, Shrek Forever After.)
We've previously talked about Enid Blyton in #Pratchat9, "Upscalator to Heaven" and #Pratchat22, "The Cat in the Prat". Her Famous Five and Secret Seven books are the most obvious inspiration for Malicia's adventurous notions.
We last mentioned Jasper Fforde in #Pratchat31, "It's Just a Step to the West". Many of his worlds break down the walls between reality and fiction, but this is especially true of his Thursday Next series, beginning with The Eyre Affair.
We've talked about Neil Gaiman many times. A fantasy writer who started as a journalist and first made his name in comics, he was a long-time friend of Terry Pratchett.
Goosebumps is a series of horror novels for middle grade readers, all written by Robert Lawrence Stine, aka R. L. Stine. We previously mentioned them in episode 18, "Sundog Gazillionaire".
Rllk is clearly the pre-Clan rat sound for "fuck".
Hieroglyphics are the characters of the ancient Egyptians form of writing, though the term is sometimes applied to other cultures' similar forms. While each character was an image, and could represent the object they resembled – making them pictograms – they also represented sounds, making up the syllables of longer words, and clarified the meanings of other adjacent heiroglyphs. The Clan's written language is not quite the same.
A guru, from pan-Indian tradition, is a spiritual guide and teacher. The term applies to teachers and mentors in Hinduism, Jainism and Sikhism.
We've previously talked about Pratchett's obsession with Lobsang in #Pratchat31, "It's Just a Step to the West".
The Hero with a Thousand Faces was written by American professor of literature Joseph Campbell in 1949; in it he argues that there is a common mythological hero story across many cultures. The book is hugely influential on modern fiction – it's effect on Pratchett is perhaps felt most in Only You Can Save Mankind – but has been applied in a very reductive way, and its popularity has led many to view the stories of other cultures through a very classical, Western lens.
Pratchett's love for the lone wagon wheel rolling out of an explosion appears most prominently in Soul Music, but also in several other books as an aside.
Secret Valley was an Australian kids' adventure show, co-produced with Spanish and French companies, first aired in 1980. It was about the kids who worked and played at the fictitious holiday camp, Secret Valley, and their ongoing rivalry with a gang of bullies led by Spider McGlurk (no really). Spider – who despite Ben's insistence off-air was not played by a young Russell Crowe – was paid by developer William Whopper to ruin the camp so he could buy up the land. The series was repeated often on the ABC throughout the 1980s, and was created by Roger Mirams, who went on to create the spin-off Professor Poopsnagle's Steam Zeppelin. Ben never saw the latter show – it ran on Channel Nine, before his country town had more than two television stations – but it apparently has quite a cult following in the UK, even today. The Secret Valley theme was indeed sung to the tune of "Waltzing Matilda".
The Doctor Who serial with the giant rats and overt racism is 1977's Victorian-era adventure The Talons of Weng-Chiang, starring Tom Baker as the Doctor, Louise Jameson as Leela, and introducing two fan favourite guest characters, theatre proprietor Henry Gordon Jago (Christopher Benjamin) and pathologist Professor George Litefoot (Trevor Baxter). The other one, with the character screeching "Ratkin!", is 1989's Ghost Light, from the show's final season before being cancelled in 1989.
Neil Gaiman's urban fantasy Neverwhere was originally a television series, produced for the BBC in 1996. It introduces the idea of "London Below", an alternate city invisible to those who live in "London Above" and where various aspects of London take on supernatural forms. In London Below, rats are revered as intelligent beings, and the Rat Speakers are an entire sect who serve them. Neverwhere was turned into a book, and followed by the short story How the Marquis Got His Coat Back. Gaiman is currently working on a full-length sequel.
The film in which Dwayne "The Rock" Johnson leaps off a tower is 2018's Skyscraper, in which he plays a war veteran and former FBI agent who is frankly over-qualified to take on a security job in the new tallest building in the world, being built in Hong Kong. It's attacked and set on fire by terrorists while his family are inside, instigating the jumping.
Eight (it's okay, it's safe to say on Roundworld) is established in the very first Discworld novel, The Colour of Magic, as the number of occult significance on the Discworld. Wizards avoid saying it out loud, using euphemisms like "7A" and "twice four", as in the wrong time or place it can summon evil creatures – notably Bel-Shamharoth, aka "the Soul Eater" or "the Sender of Eight".
Cranium Rats first appeared as part of the Planescape campaign setting for Dungeons & Dragons's second edition in 1994. They are not natural creatures, but are created from regular rats by the evil psychic beings known as Mind Flayers. You can find details of Cranium Rats for the game's current, fifth edition in Volo's Guide to Monsters, published in 2016.
"Deus ex machina" is a narrative cliche in which the plot is resolved suddenly by an unlikely or overtly supernatural occurrence. It comes from ancient Greek theatre, and means "God out of the machine"; the playwright Aeschylus invented it as a way of ending plays, and they literally brought Greek Gods onto stage using machines – namely a trapdoor or a crane – to end the story.
For an explanation of the Gonnigal, and the origins of the name, see our previous episode, "Meet the Feegles".
Truckers is the first in Pratchett's "Bromeliad" trilogy about a society of Nomes, tiny creatures who live in the cracks of the human world. We've previously covered all three books in the trilogy: Truckers, Diggers and Wings.
Phillip Pullman is the author of the His Dark Materials trilogy that began with Northern Lights in 1998 (which won that year's Carnegie Medal). After a moderately successful film adaptation of the first novel (under it's American title The Golden Compass), the trilogy is now being adapted for television by the BBC and HBO, beginning with a season covering the events of the first book in 2019. Pullman is currently working on finishing The Book of Dust, a sequel trilogy to His Dark Materials. His other work includes the Sally Lockhart novels, beginning with The Ruby in the Smoke, which was also adapted by the BBC starring Billie Piper.
Harry Potter and the Order of the Phoenix, the fifth in the Harry Potter series, is the first after the proper return of "wizard Hitler" Voldemort. It features the horrendously cruel teacher Dolores Umbridge and the death of a major, beloved character. So…you know, pretty heavy for a 7-year-old.
There have been a lot of adaptations of Oliver Twist, but not that many cartoon versions: the two most recent straight versions are a 1974 American production, and a 1982 Australian one. The 1989 Disney film Oliver & Company loosely adapts the story to be about a lost kitten who joins a gang of street dogs, though Sally doesn't die (or indeed appear) in that one.
Animal Farm is George Orwell's 1945 novel which serves as an allegory for the communist revolution in Russia. In the book, the animals of Manor Farm depose the human farmers and take over, creating a fairer society before falling prey to greed and corruption. The "glue factory scene" also involves the death of a beloved character.
Burgo's Catch Phrase was a popular Australian version of the US/UK gameshow Catch Phrase, originally using the same name, that ran from 1997 to 2003 on the Nine Network. Contestants viewed animated picture puzzles, not unlike a rebus, and had to determine the phrase they represented. It was renamed to include "Burgo" in the title in 1999, to capitalise on the popularity of host John Burgess, a media personality known as "Burgo" or "Baby John", who was previously famous as the Australian host of Wheel of Fortune.
The "dab" is a dance move in which a person ducks their head into one bent elbow while stretching out and raising their other arm. Exactly where it originated is hard to pin down – similar moves appear in Japanese anime – but it seems pretty clear the worldwide fad, especially amongst teenagers, was inspired by American footballer Cam Newton, who dabbed after a goal, though he was taught the move by his teenage brother. It's popularity was pretty long-lived for a fad, only having waned in the last couple of years; it was partly kept alive by inclusion in the immensely popular videogame Fortnite: Battle Royale.
Graeme Base is an English-Australian children's author and illustrator, most famous for his picture books Animalia and The Eleventh Hour. Animalia has an illustration for each letter of the English alphabet: "M" features "meticulous mice monitoring mysterious mathematical messages" on computers while wearing monocles and headsets. It's glorious.
"He protec, he attac" – originally "he protec, but he also attac" – is a meme that started in 2016. It's been used for all sorts of things but the earliest origin seems to be two images of a nude man wielding a lightsaber. The more you know…
Zoom is a popular videoconferencing application which has seen a boom in use in the last year, especially since the start of mandated isolation due to the COVID-19 pandemic. Zoom's popularity has largely come from its easy to use design, but this approach has been criticised for causing multiple security problems, leading some major corporations and governments to ban its use. Many of the major security concerns have been addressed in updates since May 2020.
Lord Vetinari befriends the intelligent (but not talking) rats – not mice – in Guards! Guards!, communicating with their leader Skrp in their own language and using them as spies when he is temporarily deposed and imprisoned. We loved Skrp, as you'll hear in #Pratchat7A, "The Curious Incident of the Dragon and the Night Watch".
Magneto is a character in the X-Men books from Marvel Comics. Usually a villain, he is the leader of the Brotherhood of Evil Mutants (they leave the "Evil" out in later versions), and one of the most powerful mutants in the world, able to create and manipulate power magnetic fields, primarily to move metal objects. He is played in the films by Ian McKellan and Michael Fassbender.
"Yeet" is a modern slang word meaning to throw something with a lot of force. It can also be used as an exclamation, something that seemingly started with basketball players who were sure they would score when shooting, and was briefly a dance, which seems to have been where it spread most widely. Like a lot of such fads, it originated with African Americans before quickly becoming appropriated into general "youth culture", a pattern that has repeated many times.
 Jurassic Park III (2001) features Alan Grant returning to the abandoned secondary site where the Jurassic Park dinosaurs were created. There he meets a Spinosaurus, a huge predatory dinosaur. Michelle may also be thinking of the Indominus rex from Jurassic World (2015), a hybrid dinosaur created by combining DNA from multiple species.
Margo Lanagan is a multiple award-winning Australian author. Her 2008 YA fantasy novel Tender Morsels draws inspiration from the Grimm fairytale "Snow-White and Rose-Red", though note it deals with themes of family violence, sexual assault and miscarriage. 2012's Sea Hearts (published outside Australia as The Brides of Rollrock Island) explores the consequences of a witch selling seals transformed into women as brides.
Jeremy Lachlan is an Australian author. His Jane Doe series for older children (13+) begins with Jane Doe and the Cradle of Worlds, and continues with 2020's Jane Doe and the Key of All Souls.
The Call is a 2016 horror-fantasy YA novel by Irish author Peadar Ó Guilín, in which people are abducted to another world, where they hear the call of a hunting horn… It has one sequel so far, 2018's The Invasion.