These are the episode notes and errata for the bonus Pratchat episode "The Troll's Gambit", discussing the first Discworld boardgame, Thud by Trevor Truran, with guest Dr Melissa Rogerson.
Iconographic Evidence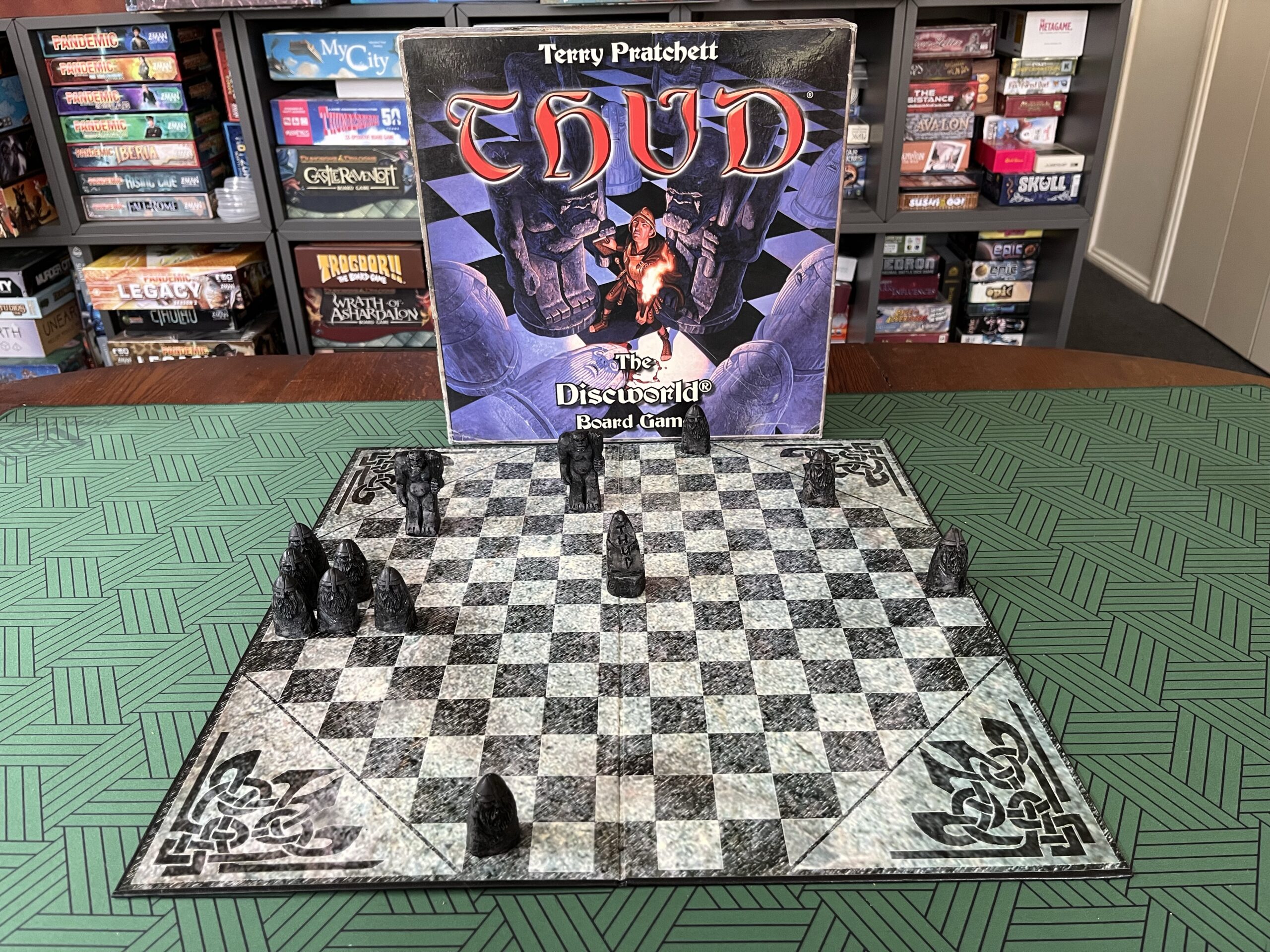 Notes and Errata
The episode title refers to the 1983 novel The Queen's Gambit by American author Walter Tevis. The book gained new attention in 2020 when it was adapted as a mini-series for Netflix by American writer/director Scott Frank, and starring Anna Taylor-Joy as Bath Harmon, an orphaned chess prodigy in 1950s America. The series and novel, in turn, take their name from the classic chess opening "the Queen's gambit". In a Queen's gambit, the white player moves the pawn in front of their Queen forward two spaces; then the black player moves their matching pawn (in front of their Queen) forward two spaces; then the white player moves the pawn in front of their Bishop on the Queen's side forward two spaces. This sets up a situation where one of the players will take the others' pawn, possibly leading to an opening for the white Queen…and likely a lot more besides, if you're knowledgable about chess.
We never get around to mentioning the scores of Ben and Melissa's game in the episode, so for the curious:

In the first round Melissa scored 0 (as the dwarfs) and Ben 16 (as the trolls).
In the second round Melissa scored 20 (as the trolls) and Ben 2 (as the dwarfs).
The final score was 20 to 18, in Melissa's favour.

There are three editions of Thud, and you can find details of them all on BoardGameGeek. (The specific editions below are also linked to their pages on BGG, but you'll find most of the details on the main page.)

The original 2002 edition, which has the title and a rune-like symbol on the cover of the box.
The 2005 "Koom Valley" edition, released to tie-in with the novel Thud! It uses a similar box, board and pieces, though the cover and rulebook art is replaced with Paul Kidby's art for the novel (though it's reversed from the book), and the rulebook includes an additional Koom Valley variant with very different rules, and a setup for the "King's Game" that features in the novel.
The 2009 edition comes in a printed cloth bag with a cloth board, and several smaller booklets for the rules. It uses new versions of the pieces: the trolls hold their clubs down, and the dwarfs have a bigger beards. This is the edition shown at Essenspiel, the big German games convention held each year in the city of Essen, with the fancy wooden octagonal board we mention later in the episode.

Agricola is a "eurogame" (see below) by veteran German game designer Uwe Rosenberg. First published in 2007, and still popular today, Agricola has won many awards, including a coveted Spiel de Jahres (Essenspiel's "Game of the Year") in 2008, and had many expansions. A revised version of Agricola released in 2016 uses some refinements developed for the 2013 spin-off Caverna: The Cave Farmers, which is basically Agricola but with dwarfs! In either game, each player is a family of farmers who grow crops, breed animals, gather resources and build improvements to get the highest score at the game's end. It's a "worker placement" game, in which you have have to place your limited number of worker pieces on specific spaces to take actions each turn – the well to gather water, the mine to get stones etc – but most actions can only be picked by one worker, so you can't always do what you most want to be doing. A key feature of Agricola and Caverna is that you can use resources to have children who grow up to become additional workers, but you have to grow enough food to feed everyone… Ben prefers Caverna, because you can also send your dwarfs on underground adventures to seek their fortune, but they're both great.
Eurogames are a style of board game popular in Germany and across Europe. There's not a precise definition, but they usually feature components in abstract shapes like cubes, often made of wood; themes grounded in the real world and/or history (farming, trains and city building are all popular); and rules which involve the interaction of many systems, but not necessarily much direct interaction between players, making most of them a race to get the most points. While it's now used as a general descriptor, there used to be quite a "rivalry" between those who loved euros (as they're called for short), and those who preferred what was derisively named"Ameritrash" – a style of deeply thematic games which feature detailed plastic components and high degrees of player vs player interaction. That term has fallen out of use as the designs of such games has become more sophisticated.
Asymmetric games are games in which players do not have the same pieces, roles or rules. For example, chess is a symmetric game, because both players have the same set of pieces and follow the same rules; Thud is asymmetric, since one player has dwarf pieces and the other has trolls. Many modern games fall between the two with what is sometimes called an "exception-based" design: the players all follow the same general rules, but each has a specific role (or, sometimes, acquires special items or powers) which grant exceptions to the rules (or adding new ones) just for that player.
Melissa mentioned Schachnovelle (literally "Chess Novella"), a 1941 novella by Austrian author Stefan Zweig (1881-1942). It's been published in English as Chess Story and The Royal Game, sometimes collected with other short stories by Zweig. Among many other things it was notable for its use of algebraic notation to describe chess moves, which was common in Germany at the time but not widely adopted among English-speaking chess players for another few decades. Zweig fled the Nazi rise in power in 1934, first to England and then America and Brazil.
We've mentioned the other Discworld board games before, back in #Pratchat30; here's a reminder:
Ben will add some more detail when he has time, but for now, here's a list of the other modern boardgames we mentioned in this episode:

Firefly: The Board Game
Battlestar Galactica – now out of print, but re-implemented as the H P Lovecraft themed Unfathomable
Igloo Pop
The Illimat
Calico
Pandemic and its later versions Pandemic Legacy: Season One, Pandemic Legacy: Season Two and Pandemic: Fall of Rome.
The Exit series of escape room games
Thunderbirds: The Board Game, Forbidden Desert (and its cousins Forbidden Island and Forbidden Skies), and Daybreak
More notes coming soon!
Thanks for reading our notes! If we missed anything, or you have questions, please let us know.